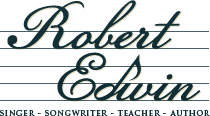 Welcome to the Robert Edwin Studio!
Robert Edwin Studio est. 1975 — Robert Edwin est. 1946
Robert's CDs


More to Life


Christian Songs

Take Them
Along, Our Songs

Legacy
Studio Rates & Policies
(Effective January 2015)
Private singing lessons are BY AUDITION ONLY. The Robert Edwin Studio teaches primarily professional and pre-professional-level singers. However, motivated and talented beginners are also encouraged to audition.
$120 per hour private lesson
$60 per half hour private lesson
Lessons Monday thru Thursday September thru June
Day and Evening Appointments - 11 AM to 9 PM
One day's notice is required for cancellation of a scheduled lesson. If a cancellation is made later than 9 PM the night before the lesson, the student will be charged for the lesson unless another student can take that lesson time. Please arrive no earlier than ten minutes before the lesson time and remain quiet in the waiting area. Have payment ready before the lesson begins. Students will be charged $20 for returned checks.
DIRECTIONS TO STUDIO
FROM THE NORTH: Tpk south to exit #4, or Rt. 295 south to Rt. 73 north. Go 4.5 miles to Rt. 130 north. Take 130 N. for 1/3 mile past McDonald's and Sunoco to 2nd light. Exit at U turn following signs for "Cinnaminson Ave-Palmyra." Take Rt. 130 S. to Cinnaminson Ave-Palmyra exit. Go ¼ mile on Cinnaminson Ave. Turn left on Division St. Go 6 short blocks to end of Division St. Turn right on Glenview Dr. 2nd house on left is #1509 Glenview. Park in street in front of house. Walk up driveway. Studio entrance is on the driveway side of the house. Sign on door says "Robert Edwin Studio"

FROM THE SOUTH: NJ Tpk north to exit #4, or Rt. 295 north to Rt. 73 north, or Rt. 130 north. Then follow directions above from Rt. 130 N.

FROM THE WEST: Tacony-Palmyra Bridge to Rt. 73 south to Rt. 130 north, or Betsy Ross Bridge to Rt. 130 north. Then follow directions above.

FROM THE EAST: Take Church Rd., Lenola Rd, Riverton Rd. or Branch Pike into Rt. 130. Then follow directions above.


View Larger Map

Robert Edwin Studio, LLC
1509 Glenview Drive
Cinnaminson, NJ 08077-2156