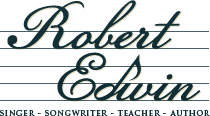 Welcome to the Robert Edwin Studio!
Robert Edwin Studio est. 1975 — Robert Edwin est. 1946
Robert's CDs


More to Life


Christian Songs

Take Them
Along, Our Songs

Legacy
About Robert
ROBERT EDWIN has been a professional singer/actor since 1965, a recording artist since 1966, an ASCAP songwriter since 1967, a published author since 1968, and an independent studio singing teacher since 1975. He has sung Bach cantatas in church cathedrals and rock songs in Greenwich Village, New York coffeehouses; recorded for Avant Garde and Fortress Records, and toured extensively throughout the United States and abroad. He has performed in New York City's Carnegie Hall and Town Hall, and has appeared with such outstanding artists as opera star Jerome Hines, jazz legend Duke Ellington, and actor-director Ossie Davis. His TV and radio credits include several NBC Christmas specials as well as commercials for everything from politicians to hot dogs.
Mr. Edwin has written a wide variety of published and performed music ranging from hymns to music theater scores. He was a leader in the 1960s "Church Music Reformation" where his albums, Keep the Rumor Going and With Joy, and his Synergy Series of Worship Experiences became a reviving factor in the life of the modern church. In the 21st Century, he has recorded four CDs of original songs: Robert Edwin-Christian Songs; More to Life-Robert Edwin Sings Songs by Crosby & Edwin; Take Them Along, Our Songs; and Legacy.
Read more

Robert Edwin Studio, LLC
1509 Glenview Drive
Cinnaminson, NJ 08077-2156