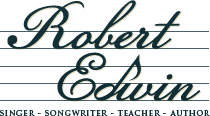 Welcome to the Robert Edwin Studio!
Robert Edwin Studio est. 1975 — Robert Edwin est. 1946
Robert's CD's


More to Life


Christian Songs

Take Them
Along, Our Songs

Legacy
About Robert
Robert Edwin has gained international recognition as a singer, songwriter, teacher, and author. He has sung Bach cantatas in church cathedrals and rock songs in Greenwich Village coffeehouses, recorded for Avant Garde and Fortress Records, and toured extensively throughout the United States and abroad. He has performed in New York City's Carnegie Hall, Town Hall, and Radio City Music Hall, and has appeared with such outstanding artists as opera star Jerome Hines, jazz legend Duke Ellington, and famed actor/director Ossie Davis. His TV and radio credits include several NBC Christmas specials as well as commercials for everything from politicians to hot dogs.
An ASCAP lyricist and composer since 1967, Mr. Edwin has written a wide variety of published and performed music ranging from national radio commercials to music theater scores. He was a leader of the 1960s "church music reformation" during which his albums, Keep the Rumor Going and With Joy, and his Synergy Series of Worship Experiences became a reviving factor in the life of the modern church. His CDs of original songs (Robert Edwin-Christian Songs; More to Life-Robert Edwin Sings Songs by Crosby & Edwin; Take Them Along, Our Songs; and Legacy) are available at www.cdbaby.com .
Robert's diverse performing career is matched by an equally diverse teaching career. A pioneer in Contemporary Commercial Music (CCM), music theater, and child voice pedagogy, he preaches what he practices at his independent studio in Cinnaminson, New Jersey, where classical singers interact with music theater performers, CCM vocalists, child singers, and pageant contestants. He has served on the voice faculties of the University of Michigan, the New Jersey School of the Arts, Burlington County College (NJ), and the Applied Music Staff of Camden County College (NJ). He is a frequent faculty member of the Voice Foundation's Annual Symposium: Care of the Professional Voice as well as an active member of the distinguished American Academy of Teachers of Singing (AATS). He has led master classes and workshops in the United States, Canada, the Bahamas, and Australia.
His ground-breaking DVD on child voice training, The Kid & the Singing Teacher, with CCC-SLP Barbara Arboleda, is available at www.voiceinsideview.com. He authored a chapter on teaching children to sing for the 2008 book, Pediatric Voice Disorders (Plural Publishing), and is a chapter co-author for the Oxford University Press 2012 Handbook of Music Education. In more recent publications, he is a featured teacher in Elizabeth Blades' A Spectrum of Voices-Second Edition (Rowman & Littlefield 2018), Matthew Hoch's So You Want to Sing CCM (Rowman & Littlefield 2018) and has a "recipe" in Brian Winnie's The Voice Teacher's Cookbook (Meredith Music 2018).
Mr. Edwin is a member and a past Secretary/Treasurer of the National Association of Teachers of Singing (NATS). His column, "The Bach to Rock Connection" (1985-2002), was the first one in the NATS Bulletin (subsequently the NATS Journal) dedicated to CCM ("nonclassical") voice pedagogy. He continues to serve as an Associate Editor of the Journal of Singing for the "Popular Song and Music Theater" column. From 1996 to 1999 he also served as a Contributing Editor for VocalEase, a magazine for choral and choir directors.
Robert Edwin taught for over ten years in New York City under the aegis of the Helena W. Monbo Studio, a studio that included actress/singer Grace Jones, Tony Award winner Ernestine Jackson, and A Chorus Line original cast member, Donna Drake. Present and past students from his New Jersey studio include Bianca Ryan, the Season One winner of America's Got Talent; Tyler Grady, a 2010 American Idol Top 24 semifinalist; Jennifer Piech, who created the role of "Kate McGowan" in the Broadway musical, Titanic; Noah Hinsdale, "Michael" on Broadway in Finding Neverland; members of the bands "April Mae and the June Bugs," "The Fabulous Greaseband," and "Grey Eye Glances"; Kristen Alderson, "Starr" on the ABC-TV soap opera, One Life to Live; and Integrity Music recording artist, Paul Baloche.
TEACHING PHILOSOPHY
Serving as both a singing teacher and a coach since 1975, Mr. Edwin teaches an integrated method that includes the 'tions" of voice technique (body position, respiration, audiation, phonation, registration, resonation, articulation, and emotion), repertoire development (the right songs for the student's voice, personality, and looks), and performing skills (stage presence, fear management, audition skills, mic technique, actor/singer integration). His dynamic and personalized approach encourages students to discover and cultivate their own creative resources and to modify technical and behavioral traits that interfere with artistic expression.
PERSONAL
Born in Brooklyn, New York on June 18, 1946, baritone Robert Edwin comes from a professional musical family. His father, the late Edwin Robert Steinfort, sang in vaudeville and premiered the song, "Yes, We Have No Bananas" in the musical revue, Barney Google. His mother, the late Helena W. Monbo, was a prominent New York City singing teacher and his own personal teacher for over fifty years. Robert is married to Faith Sanderson Steinfort, a retired Language Arts teacher. They have two adult sons, Kurt and Matthew. Matthew and his wife, Ana, have two children, John Patrick and Ella Elizabeth.
LINKS
American Academy of Teachers of Singing (AATS)
www.americanacademyofteachersofsinging.org
A forty-member academy of nationally and internationally known voice teachers.
Robert Edwin was elected a member in 2001.
National Association of Teachers of Singing (NATS)
www.nats.org
A 7,000 member professional organization
Robert Edwin is a past NATS national Secretary/Treasurer, and an Associate Editor of the NATS Journal of Singing. He has been a member since 1981.
New Jersey Chapter – NATS
www.njnats.net
A state chapter within NATS
Robert Edwin has been a member since 1981 and is a Past-President of the Chapter.
PHOTOS
Click here to view and download high resolution pictures of Robert Edwin.

Robert Edwin Studio, LLC
1509 Glenview Drive
Cinnaminson, NJ 08077-2156