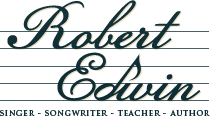 Welcome to the Robert Edwin Studio!
Robert Edwin Studio est. 1975 — Robert Edwin est. 1946
Robert's CD's


More to Life


Christian Songs

Take Them
Along, Our Songs
Legacy
Notable Students of ROBERT EDWIN Present and Past
AVA BRIGLIA

"Matilda" in MATILDA on Broadway 2016

JOSH YOUNG

"John Newton" in AMAZING GRACE on Broadway 2015
Tony-nominated "Judas" in JESUS CHRIST SUPERSTAR on Broadway 2012

STANLEY BAHOREK

"Robert Haweis" in AMAZING GRACE on Broadway 2015
"Leaf "in … SPELLING BEE on Broadway 2007-08

MACKENZIE MAUZY

"Rapunzel" in the 2014-15 movie, INTO THE WOODS

BIANCA RYAN (America's Got Talent 2006 Season One Winner)

is "Layla Knuckles" in the indie movie, We Are Kings – 2014-15

CATHERINE WALKER

"Phoebe" in A GENTLEMAN'S GUIDE…on Broadway 2014-2015

BEADA BRIGLIA

"Hortensia" in MATILDA on Broadway 2015

NOAH HINSDALE

"Michael" in FINDING NEVERLAND on Broadway 2015

DANA COSTELLO

"Ensemble and U/S" in FINDING NEVERLAND on Broadway 2015

VINCENT CROCILLA

"Les" in NEWSIES – National Tour – 2014-15

CAMERON FLURRY

"Jane Banks" in MARY POPPINS at Walnut St. Theatre (PA) 2014-15

LEXI GWYNN

"Young Cosette" in LES MISERABLES at Media Theater (PA) 2014-15

TAYLOR

Lead singer in the band, fOREVER, with the 2014 Top 40 and Indie hit, "Take Me Home"

KRISTEN ALDERSON

"Starr" on the ABC-TV soaps, ONE LIFE TO LIVE/GENERAL HOSPITAL

LEXI RHOADES

"Tamika" in SISTAS-THE MUSICAL Off-Broadway 2012-2014

BONNIE KELLY

"Silly Girl" in BEAUTY & THE BEAST National Tour 2014-2015

JESSICA O'BRIEN

"Mainstage Performer" for DISNEY CRUISE LINE (Europe) 2014

GABY BRADBURY

"Pepper" in ANNIE on Broadway 2013

BRYAN LANGLITZ

"Ensemble/understudy" in MEMPHIS on Broadway 2012

TYLER GRADY

A Top 24 semifinalist on Fox TV's 2010 AMERICAN IDOL

PAUL BALOCHE

INTEGRITY MUSIC contemporary Christian recording artist/writer

LAUREN MOLINA

"Regina/Candi" in ROCK OF AGES on Broadway 2009
"Johanna" in SWEENEY TODD on Broadway 2005-06

TAYLOR BRIGHT

"Cassie" in 13 - Goodspeed Opera House, CT May-June 2008
"July" in ANNIE National Tour 2005-06

ARYANA RODRIGUEZ

"Thea" in SPRING AWAKENING-Lincoln Center-NYC-2005
"Maddie Grey" on the ABC-TV soap, ALL MY CHILDREN (thru 05)

JENNIFER PIECH

created the role of "Kate McGowan" in TITANIC on Broadway 1997

KRYSTEN CUMMINGS

"Mimi" in RENT in London and on Broadway 1999

SALLY ANN TUMAS

"Molly" in JEKYLL AND HYDE on Broadway 1999

CASEY TUMA

"July" in the 1997 revival of ANNIE on Broadway & National Tour

MAX TUMA

"Gavroche" in LES MISERABLES on Broadway 1999, & 2003 BROADWAY KIDS

JUNNI CROSS

"2000 Miss Delaware" (Prelim & Non-Finalist Talent Award at Miss America)

RONICA LICCIARDELLO

"2001 NJ Junior Miss" - 1st Runner-Up to "America's Junior Miss"

NATALIE RAGAZZO

2011 "Miss New Jersey's Outstanding Teen"

ALYSSA SULLIVAN

2013 "Miss New Jersey's Outstanding Teen"

SAMANTHA RIZZUTO

2014 "Miss New Jersey's Outstanding Teen"

BANDS & GROUPS

fOREVER
SJ3
Grey Eye Glances
April Mae & the June Bugs
The Fabulous Greaseband
City Rhythm Orchestra
Jennifer Burton w/ The Exceptions
Bobbe Shore and First Call
Synergy
June Spirit
New Atlantic
Azul Project
Riding Bikes
Jac Dracula
Angel Heart
Quick Step John
Mongrel Mix
Alexa Zimmerman in the band, "Amsterdam"

Robert Edwin Studio, LLC
1509 Glenview Drive
Cinnaminson, NJ 08077-2156